Five Great Summer 2008 Concerts You Probably Missed This Year But Can Download For Free
Primary tabs
We didn't catch a whole lot of shows this summer, and only one on this list, but thanks to some generous artists and savvy tapers you can enjoy these from the comfort of your MP3 player. I recommend downloading the variable bit rate MP3's as a zip file, unzipping, and then importing into iTunes.
CRAMPER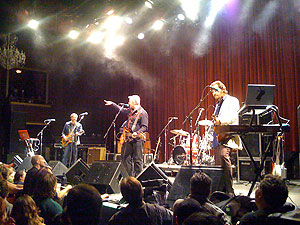 These two shows (2 different bands that share members) were both taped by my friend (and distant cousin) Tom from Madison, Wisconsin. He flew in for a visit and to record Camper Van Beethoven's 25th Anniversary Show at the Fillmore. A week later he was in Milwaukee for Cracker and uploaded both recordings to the Live Music Archive in the sky. Both shows are "matrix", a balanced soundboard/audience microphone mix and were recorded on my old DAT deck I sold to him earlier this year.


BARNES IN THE NORTHWEST TERRITORY

Gotta love Taper Mark from Portland. This guy makes the best audience/soundboard matrixes AND never misses a chance to record my favorite artist to boot! (with full blessing) Listen to Bill Frisell and Danny Barnes play a stellar set of very listenable tunes at the Northwest String Summit. How to describe this... gentle spacey country jazz? It's luscious.


Two weeks later, Barnes powered the Bad Livers reunion show at the Oregon Pickathon. White-hot pickin' from the get-n-go but vocals really kick in on Ghost Train. Queue up just before "Dallas, Texas" for banter like the goodle days. Darol Anger joins or some wicked fiddle on "Death Trip" and the Roky Erickson cover climax. This was everything we could hope for in a Bad Livers reunion (8 years since) and we are looking for the Other reunion show at Hardly Strictly.


NATASHA SHNEIDER BENEFIT

This was a special show w/ Queens of the Stone Age and Friends at the Henry Fonda Theater in Los Angeles.
This kicks off w/ Tenacious D and then the Queens segue in w/ a gentle "Go With the Flow" and trends full-tilt from there. Lots of songs from Era Vulgaris including the rare "Run, Pig, Run", a bear market favorite. PJ Harvey joins for some Desert Sessions material. Jack Black returns for Cream's "I Feel Free" and QotSA nugget "Burn the Witch." After "The Fun Machine Took A Shit and Died" (another bear market favorite), the Devil Himself (J. Devil Huge from Eagle of Death Metal) leads the Queens through "Speaking In Tongues." And after all of this, the final tribute to Natasha is "Long Slow Goodbye" and there's not a dry eye in the house. Best tribute show since One For Woody.