Hardly Strictly Rundown - It Ain't Easy!
Here it is.... the Hardly Strictly wrap-up. I'm pretty wrecked, probably because I had boys on my shoulders for 8 hours/day all weekend. Highlights and lowlights after the jump...
Friday Night Showcase
Let's start w/ Friday night. Barnes and I arrived at Villa Montalvo (Saratoga, CA) for his opening gig w/ country legend Charlie Louvin. This was the first time I have ever seen his "Barnyard Electronics" show. During soundcheck, Louvin's band was freakin' on his stuff. One of them was trying to get Bela Fleck on the phone to tell him he knew nothing about the banjo! It didn't take long for them to develop a little pre-show jam session that ultimately led to Barnes joining them on Sunday at Hardly Strictly.
I had a blast meeting Charlie and his band. Barnes' set blew my socks off. He creates these loops onstage and combines them w/ samples to build up a full-band sound... all from a banjo. I think I'm really in awe of the one-man-band performance. Keller Williams is a good example of this, who we saw the following day. This very night, my friend Tom saw Howe Gelb (Giant Sand) do his piano/guitar/sample/loopy show up in Madison, Wisconsin.
Saturday Begins
Perfect weather and SFGate's [wrong] projection of [merely] 100,000 people helped inflate Hardly Strictly into giant lumpencrowd (1/2 million?) of partiers and picnicners along w/ the music lovers. And all were rewarded, but it wasn't easy. The Star Stage layout was dis-improved this year w/ the new Foggy Bottom food court, which took up half of Lindley Meadow, creating chaos until the sun went down.
First, we dropped off Barnes at the Hotel Kabuki and got to the park early, but it was already very crowded. We had to adjust our strategy a bit and suffer through The Subdudes before a great show by The Knitters, essentially countrified X w/ Dave Alvin instead of Billy Zoom. Particularly enjoyed the songs "Dry River" and their 80's classic "New World". Suddenly, Simon got stung by a bee and we reaced to Rock Med. Meanwhile, Kari and Henry caught Allison Moorer (her hubby Steve Earle sang a tune) and Guy Clark over at Rooster.
Saturday afternoon was simply rough going for a family of 4. I think this is when Lumpencrowd peaked in mass. We tried Divide and Conquer... I caught large chunks of Keller Williams and The Flatlanders but didn't get drawn into either show. Kari enjoyed John Prine at some point, then we gathered for Michelle Shocked (bailing on Bela Fleck and the over-saturated Star Stage).
The Tide Turns
You never really know what's going to happen with Michelle, but let me tell you, this wasn't the first time we've seen her bitch out her bass player in the middle of a show. Kinda weird schtick if you ask me. Her show was uneven but had some great moments. I managed to steal a lateral move to Gillian Welch for a song but this wasn't my hour.
So up to this point it had been a long day but we hadn't really gotten over the hump to music satisfaction. (that bee sting was a buzzkill!!) But then our luck really changed. We stuck around Arrow for T-Bone Burnett, and this was a great decision. He can really read an audience and deliver what we want. Guess that's why he wins all the fancy awards. His band was totally BADASS, exemplified by "Zombieland" and "Palestine, Texas" which were probably the biggest, heaviest highlights of the weekend. Didn't know T-Bone was born in St. Louis, interesting.
So even with Neko Case joing T-Bone for a few, there was more to conquer. We blazed over to Rooster and managed to see Barnes shred w/ Robert Earl Keen for literally a minute and high-tailed to Los Lobos. Another great decision! We heard the last 6 songs full of guest stars, notably Dave Alvin and John Doe. Incredible version of Dylan's "Highway 61" (hey, I live one block from #61).... and Greg Leisz on pedal steel was supreme. That guy is a genius.
And so ended Day 1, not including the 90-minute trek back home. But that last 2 hours made it all worthwhile.
Sunday Begins
Our mission began early with our beloved Mother Hips. I still don't understand why these guys aren't international rock superstars. I recall very good versions of "Transit Wind" and "Kansas City Southern", the best train song of the weekend.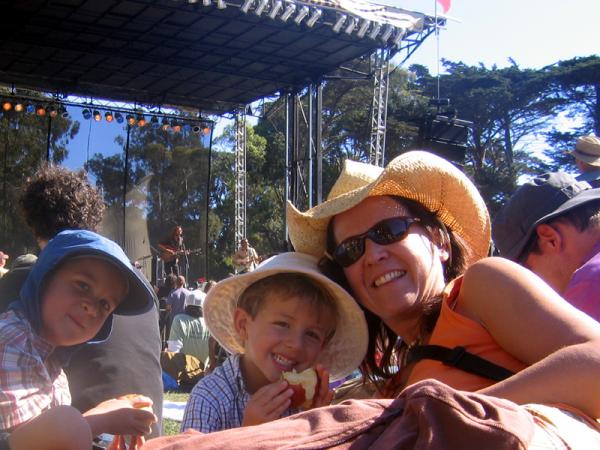 Sounded like they had another song for after "Colonize" but they got cut. Or something. Excellent little set, though, making the rest of the day alllll bonus. And it's only noon.
Since we were there early, I had planted a blanket at the main (Banjo) stage. We enjoyed a band called Flexigrass who sounded great playing Benny Goodman on banjo, vibraphone, and pedal steel. Simon was drawing the Queen Mary on his sketchpad when the band launched into the Gram Parsons classic (and Boeger family favorite) "Luxury Liner." Something to grin about.
The boys in good spirit and setting, Kari gave the green light to check out The Sadies. This band is amazing. And then (sorry Kari missed this) Neko Case joined them for a couple, and this was rockin'. The Sadies could out-rock just about anybody, to be honest.
Sunday Afternoon
So we're on a roll. We gang up for Charlie Louvin at the Rooster w/ the tip that Danny Barnes is going to sit in. Sure enough, he plays nearly the entire set and lets loose on a few. We then manage to catch the last song of Heartless Bastards who represent Fat Possum, my favorite dirty blues record label.
Back at banjo, David Grisman plays the least impressive show of the weekend. He totally loses the crowd and is oblivious to the fact that the chattering classes are much louder than he. Time to break out the monsters.
During Grisman's lame-ass set, Henry needs to use the potty in the most inconvenient way. I volunteer for the mission and subsequently rewarded, as we discovered The Hacienda Brothers, a Western Soul outfit from Tucson. Henry and I had a blast here as they fired off piano, pedal steel, acordian, and some really tasty telecaster on top of drums and bass. Hacienda Brothers earn the Best Surprise of the Weekend award.
Back at Banjo, we have original bluegrass boy Earl Scruggs. The Blue Angels give him the flyover, but he manages to play a decent set including that other Dylan song I like: "You Ain't Going Nowhere". Dang, Earl is 83!!
Now, the reason we staked a claim at the main stage is Doc Watson. The boys know and love his music... well we all do. The man is 84 and still sounds incredible. No one can touch his gentle greatness. We are glad we've stuck it out.
We finally emerge from the field of lumpenkaos and get a sendoff from Dave Alvin and his Guilty Men, which includes the acordian dude from Hacienda Brothers. Dave rocks it home.
Reserving the option to be ultra greedy and catch Del McCoury on the way back to the car, we decide not to wait and rather go seek food on the other side of the Bay Bridge. There's much more to say about my fascination w/ behavior patterns in crowds but I'll save it... need to file this thing and get some sleep. Henry turns 4 tomorrow and he wants to tour an aircraft carrier.